The White House has dolled up the Oval Office in modern* decor and, suddenly, conservative commenters fancy themselves the next Jonathan Adler.
And their collective vision for what the Oval Office should be? We're imagining a wallpaper done in stars and stripes, more stars and more stripes on the upholstery, stripes and stars on the rugs, a red/white/blue carpet and maybe an eagle or five on the shelves. Also, would it hurt to put the anchor of an aircraft carrier in corner? Or maybe just a missile tip? C'mon, you pinko!
"This is so strange, yet not surprising," a commenter wrote on the conservative blog Redstate.com. "Given his distaste for all things historical, this is about what you could expect."
From another: "The sofa cushions are probably reversible for those martini parties. I?m picturing a red-and-black pattern featuring caricatures of Che, Joe and Vlad, kind of like the Pep Boys logo."
And another: "…[t]his room looks just about right for lowered lights and filled with smoke (Obama smokes), and conducive to making dirty deals. There's enough room under the sofas to hide the dead bodies."
Another: "Surprised zero didn't paint the walls institutional green or bring in some of his homies with a few boxes of spray paint, either alternative being in keeping with his respect for the office."
Also: "Not a fan of the overwhelming use of earth tones…" (This was the tenor of many, many comments. Apparently, people want their Oval Office to look like a carnival midway.)
And: "Those neutral colors do not connote honor, respect, awe, for the office or nation. Only red white and blue in the flag itself."
So let's get this straight. A traditional Oval Office is: martini-free; party-free; not adorned with pictures of Che, Stalin, Lenin or the Pep Boys; non-smoking; brightly lit; not roomy enough to hide dead bodies; formal; not spray-painted; homie-free; zero-free; not-earthy; not neutral; not green; not black; not red; and only red, white, and blue.
Well, we did a quick Google search, and we're pretty confident the Oval Office was never entirely red, white, and blue, not even in the heady days of the Bush administration. In fact, the president whose office came the closest was Bill Clinton. He had a red-white-and-blue carpet. And you know what happened there.
But back to Obama's Oval Office. It's got new wallpaper, rugs, sofas, lamps, drapes, and a coffee table, and while it certainly isn't the handiwork of Philippe Starck or Kelly Wearstler, it has a few contemporary touches.
Take the couches. Custom made in New York, they're done up in a super-comfy brown cotton from Pennsylvania — no more of that fussy, flowery fabric left over from the Bush days that looked like something the Queen of England might wear. And no, the cushions aren't reversible for martini parties. (What would that look like any way? Dirty and stuffed with olives?)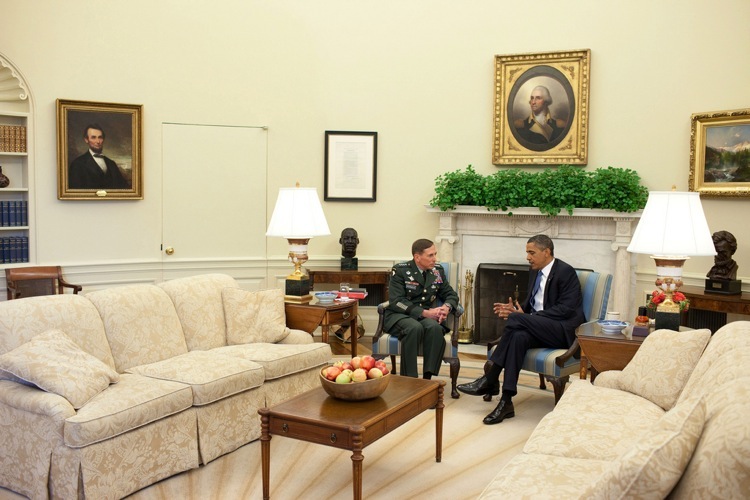 It's just too bad Obama picked such horrendous pieces to "update" the Oval Office. With the marbled formica-like coffee table (it's actually walnut), flat ceramic lamps, and fall L.L. Bean color scheme, the whole thing looks like a Sheraton.
The rug's pretty cheesy, too. It's ornamented in inspirational quotes selected by Obama himself — "The Only Thing We Have to Fear is Fear Itself? (FDR); "Government of the People, By the People, For the People" (Abe Lincoln); and so forth — which is something an earnest college student would do. Then again, it's also got the presidential seal, which, it should be noted, is red, white, and blue.
*Modern according to your typical White House: Subtract 100 years from today. Add five years for a Republican; 10 for a Democrat. Divide by 2.
[Before anyone gets in a twist about tax money being used on this, note that it was paid for by a White House nonprofit, with funds raised during Obama's inauguration. ? Ed.]