Artecnica, a product company out in L.A., has given Co.Design an exclusive sneak peek at its newest line–a stunning assembly of lighting fixtures.
The company made its name pioneering a new approach to sustainability, hiring big-name designers such as Hella Jongerius, the Campana brothers, and Tord Boontje to create pieces that use both minimal amounts of material, and are hand-crafted in poor communities in Central America and beyond, thus creating new livelihoods with every new product.
But this time out, that sort of do-good mentality has also been translated into a single theme that's meant to bind all the new products together: The economy has sucked, but we're looking forward. Our politics are ugly, but we're looking up. Looking up, looking forward, and looking on the bright side–hanging lights make perfect sense, right?
Above, a multi-colored paper mobile by Clara von Zweigbergk ($27).
Below, the Wonderland series of cast-aluminum candlesticks by Stephen Johnson, which depict cuddling animals performing impossible balancing acts (kinda like staying employed these days?). ($68-$89)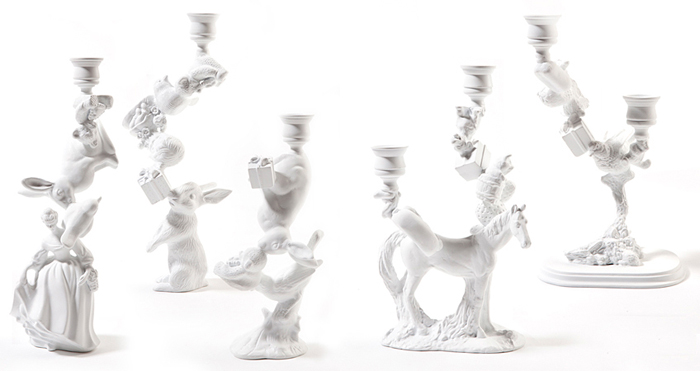 Building off of Artecnica's experiments in recycled Tyvek–the stuff that soft FedEd envelopes are made of–Paula Arntzen created the Trianon series of chandeliers, which have a big bold presence despite their gossamer weight and easy-going price ($99-$150):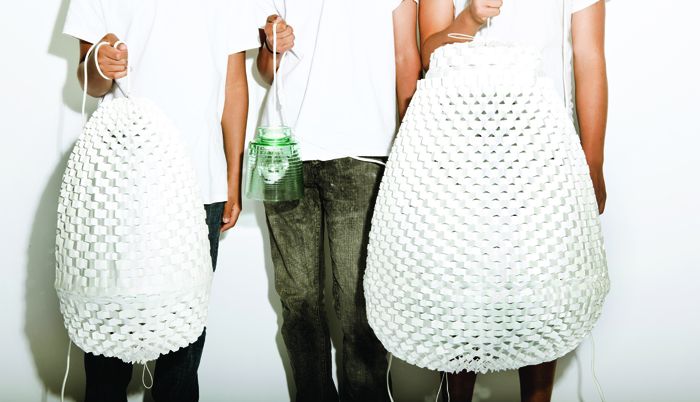 Another stunning piece by Arntzen, La Corounne, a chandelier made of copper-coated plastic ($125):
Last but not least, the Bright Side series of pendant lamps by Rich, Brilliant, Willing (the name's a play on the names of the firm's principals). The pendants were inspired by the glass insulators that were once used on power lines; the base of each one is inscribed with inspirational phrases–such as "In the right light, at the right time, everything is extraordinary." They're be used either as hanging pendants or as table lamps–they can rest on their sides without rolling away. ($95-$110)