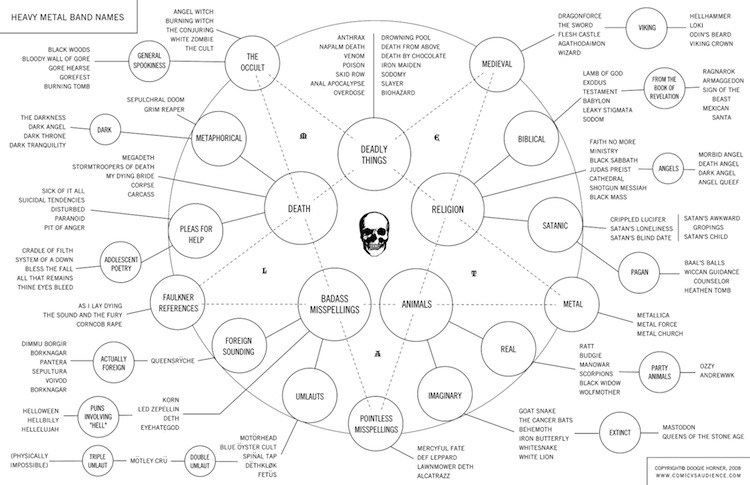 [Click for full-sized version]
You may not know is that the 30-year-old Tyler School of Art (Philadelphia) grad with a major in graphic design (minor in art history) is a serious–like MENSA-level serious–artist. He painted the cover of Pride and Prejudice and Zombies for Quirk Books (his day job). And in October, HarperCollins is publishing Everything Explained Through Flowcharts, his book of graphics so complex they'd give John Nash a migraine, and beautiful enough for wallpaper.

[Click for full-sized version]
Exhibit A: The Future, brought to you here in an exclusive sneak peak.
Futurists get paid tons to do work that never comes out half as clear (or fun) as this. It illustrates, quite simply, the present (in black) and what will replace that thing in the future (in blue):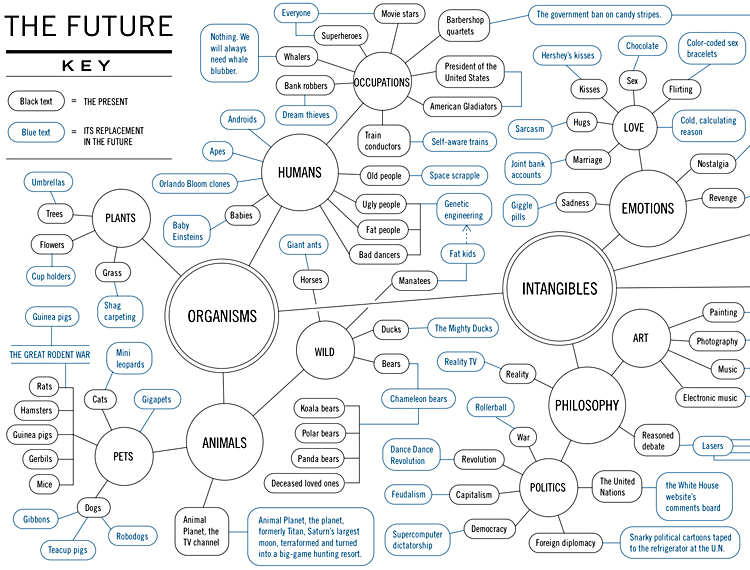 That's it's just one of the flowcharts in his book (above). Each flowchart begins with intense research. "I'm trying to distinguish this from a humor book," Horner tells Fast Company. "There's a lot of factually accurate information in my charts."
From there, he searches for patterns and clusters, picks the right style of chart (his book is full of all kinds), then sketches the rough chart or makes lists. Finally, he takes three or so passes to make 'em pretty.
But there's more. The flowcharts in Horner's book work alone or as a giant geektastic hive. "One thing I tried to do with the book is make connections between all of the various charts, so the book ties together," he says. Though he can't reveal the full picture yet (for fear of being ripped off), "The table of contents show a lot of these connections–not as many as there are, because of space constraints…. It's a rich, woven tapestry," he jokes.
Horner has also worked as a stand-up comedian for the last four years and has managed to survive three rounds in a venue that's brutal on comedians–the show, America's Got Talent. (Round one was one of the harshest things you'll watch this side of a WikiLeaks video.)
The book is the result of a year's worth of work. And it's the culmination not only of his efforts to solve the world's complex problems with two dimensional charts but to merge his own loves–writing, comedy, and graphic design–into a single, satisfying career.
He should graph that.