We all know, vaguely, that the websites we visit are tracking us with cookies and whatnot, silently scraping data on how and where we surf. But when you see the facts all laid out for you, it's gobsmacking.
The Wall Street Journal just published the results of an investigation they did into tracking habits at the Web's top 50 websites, and summed up the results in this superb infographic. Basically, the top half shows the Web's top 50 websites; the bottom half shows the tracking companies whose software can be found on those sites. When you click on one, it shows you the myriad linkages between them.
Here, for example, are all of the tracking sites used by Dictionary.Reference.com: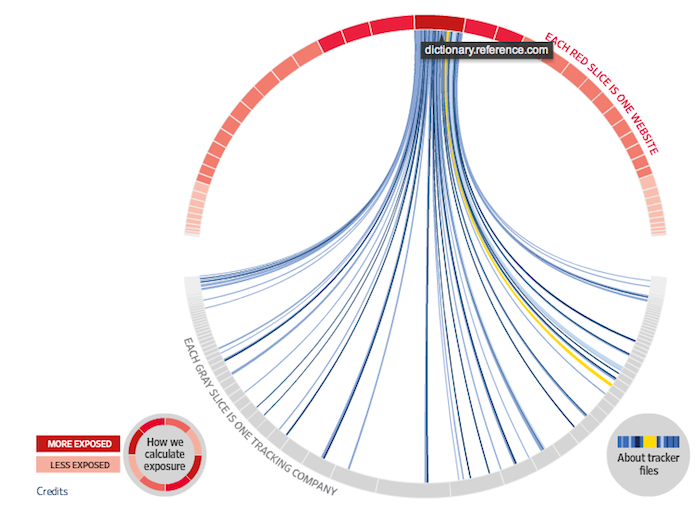 And here are all of the sites where Google has embedded its own tracking software: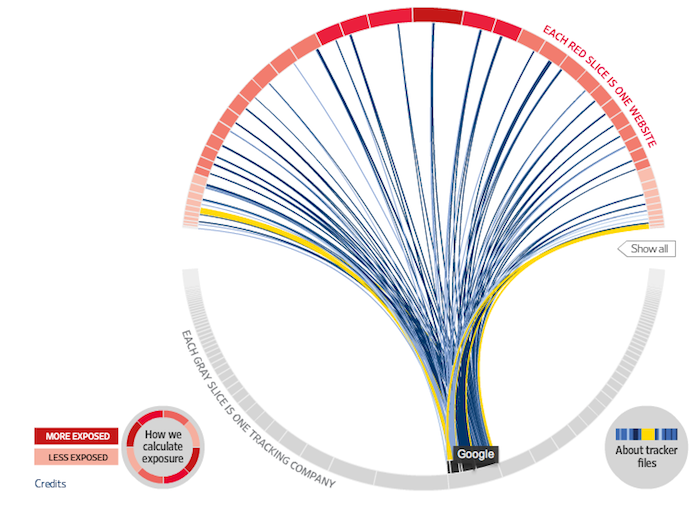 You can even click on each company, and look at a detailed profile of exactly what their privacy policies are, concerning user data: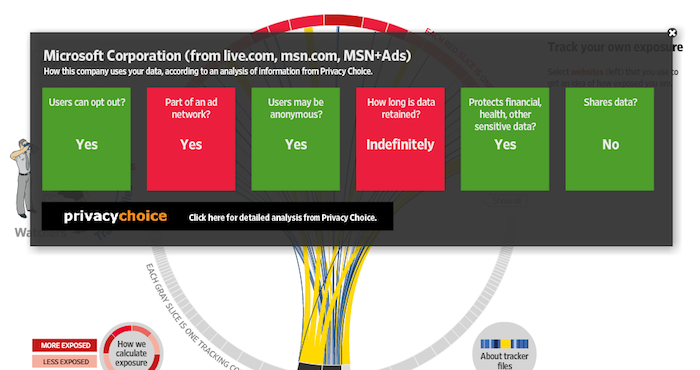 Now, you might think that all of the data is pretty anodyne. But the reporting that the WSJ has done on the issue blasts that assumption out of the water:
You may not know a company called [x+1] Inc., but it may well know a lot about you. From a single click on a web site, [x+1] correctly identified Carrie Isaac as a young Colorado Springs parent who lives on about $50,000 a year, shops at Wal-Mart and rents kids' videos. The company deduced that Paul Boulifard, a Nashville architect, is childless, likes to travel and buys used cars. And [x+1] determined that Thomas Burney, a Colorado building contractor, is a skier with a college degree and looks like he has good credit.

The company didn't get every detail correct. But its ability to make snap assessments of individuals is accurate enough that Capital One Financial Corp. uses [x+1]'s calculations to instantly decide which credit cards to show first-time visitors to its website. In short: Websites are gaining the ability to decide whether or not you'd be a good customer, before you tell them a single thing about yourself. The technology reaches beyond the personalization familiar on sites like Amazon.com, which uses its own in-house data on its customers to show them new items they might like.
Still, is that a bad thing? For now, the purpose often seems to be to provide us with things we actually want. Whether there's a darker trend afoot–one which will make these data scraping practices intolerable–remains an open question.