California, that barrel-wearing hobo of a state, now thinks it can make money off license plates. Yes, license plates, those flimsy metal things you screw onto your car once every few years.
Earlier this week, the Governator and his wife announced the Million Plates Campaign, an effort to bring in $40 million for the arts by asking drivers to buy an "arts license plate," which is more or less like the standard California license plate, except that it is beach-themed, costs $50 ($98 if it's personalized), and was designed by a famous artist. Oh, and it's tax deductible (natch). This on the same day that the state Assembly Transportation Committee threw its bipartisan support behind a bill that would green-light research on electronic license plates doubling as digital ads.
The electronic license plate sounds like a great way to make money fast. The device would look like a regular old plate when you're driving, but stop at a red light or in traffic for more than 4 seconds, and it switches to a mobile billboard. Companies would contract directly with the state DMV to buy ads. So in one slick move, you manage to both generate revenue through what amounts to a voluntary corporate tax and exploit California's cherished car culture. Besides, it's not like vehicles haven't already been whored out to advertisers.
There's just one problem. Make that two problems. First, even though there's at least one company out there developing the tech, the plates haven't gone into production yet. Second, Schwarzenegger's saying he'll veto the bill, because "The Legislature needs to focus on passing a budget that lives within our means." (The bill's author, Sen. Curren Price, says the plates would present no additional costs to the state or the DMV.)
In the near term, then, convincing Californians to cough up a few dollars for a sunny new license plate seems to be a favored source of cash. The arts plate, which was designed by the California painter Wayne Thiebaud (famed for turning cakes and bubblegum ball machines into high art) has actually been around for a while — since the early '90s — and  already accounts for about 60 percent of the California Arts Council's budget. That's not saying much, of course. The Golden State has always starved its artists; last year, California had the poorest state-funded arts agency in the country.
The latest push is really just a matter of marketing. Celebrities on the order of Jennifer Aniston, Anjelica Huston, Morgan Freeman, Tom Hanks, Robert Redford, Frank Gehry, and John Baldessari are being trotted out as "arts ambassadors" to promote the plates.  Launching the campaign on Monday, Schwarzenegger appeared with Quincy Jones and T-Bone Burnett, among others, at the 20th Century Fox Studios lot, where the Guv, in his previous and less pernicious career, shot Commando, Predator, and True Lies. He mixed bad jokes — "I took art so seriously that I started sculpting my body and created a Mr. Universe body" — in with the spectacularly serious matter of California's $20 billion budget deficit. His plea to the public was a familiar one: "[T]here are 33 million vehicles, registered vehicles. Think about it. If just 10 percent would just buy those license plates, how much money arts would have in the state of California." In other words: BUY STUFF. The Guv oughta get that on a license plate.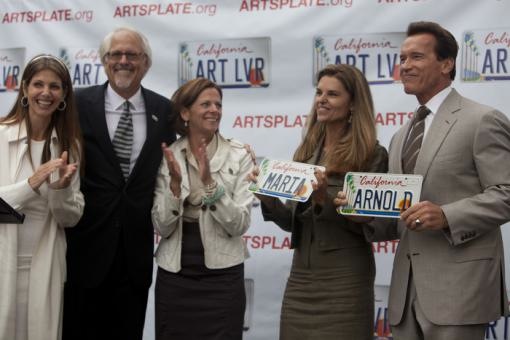 [Top two images via California Arts Council; second from bottom via the San Francisco Museum of Modern Art; bottom via The Office of the Governor]